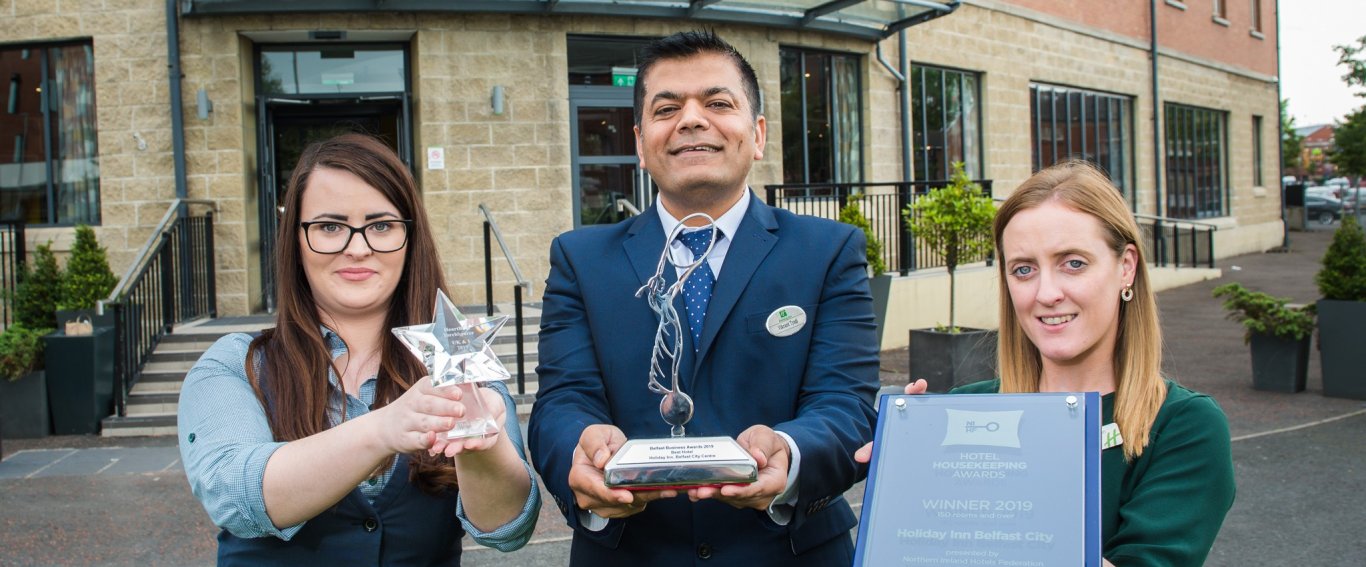 Hat-trick for Holiday Inn Belfast recognised with three major awards in 12 months
| News
It's been a glittering year for Andras Hotels as its flagship Holiday Inn, Belfast City Centre, located on Hope Street, scooped a trio of highly coveted, prestigious awards from top hospitality organisations.
In the last number of months, The Holiday Inn, Belfast has been awarded the much-coveted Belfast Business Awards 'Best Hotel', the Northern Ireland Hotels Federation's (NIHF) 'Housekeeping Team Award', while also achieving Elite Status in the IHG's 'Heartbeat Torchbearer Award'.
Rajesh Rana, Director of Andras Hotels, said: "We are absolutely delighted to have been recognised for these fantastic awards. They reflect the hard work and dedication of the team do daily and who go the extra mile to provide a quality experience for all our guests and I would like to take this opportunity to thank each and every person who works at the hotel who has helped secure these awards.
"We believe in continual investment in our staff and our facilities, and we are proud to offer world-class facilities for business and leisure travellers alike. The awards confirm we are delivering on our commitment to quality."
This hat-trick of awards offers a fascinating insight into the work that goes on behind the scenes to ensure that Belfast's Holiday Inn runs smoothly and guests experience quality hospitality.
There are 79 staff employed at the hotel who work round the clock to keep the bustling hotel spotlessly clean and meticulously tidy, despite the constant flow of guests. Without their invaluable and tireless efforts, a hotel would cease to function. In recognition of this often unseen and undervalued work, Northern Ireland Hotels Federation established the Housekeeping Team Award in April 2019, which won the over 150 rooms category after achieving a maximum perfect ten score. Assessed by 'mystery shopper' and formal inspections, the initiative was set up to recognise the contribution housekeepers make to hospitality the industry.
Beating off stiff competition, in May 2019, Holiday Inn, Belfast was crowned Best Hotel in the Belfast Business Awards, held in association with Bank of Ireland. These awards are synonymous with recognising excellence and for promoting the city as a great place to do business. The Best Hotel Award for Holiday Inn recognises the overall ambassadorial role the hotel plays in Belfast and it's continued commitment to the very highest standards of guest hospitality.
For Holiday Inn, Belfast's General Manager Vikrant Tyagi, the IHG's Heartbeat Torchbearer Award is his greatest source of pride. Only presented to truly outstanding venues, this award is reserved for hotels that have delivered exceptional quality consistently in all aspects of operation. It is presented to just a small number of IHG's European hotels annually. Last November, Belfast's Holiday Inn was named as one of only five hotels, out of 133 in the IHG group, to have achieved Elite Status. This was assessed through outstanding Guest Satisfaction survey results where Holiday Inn consistently scored exceptionally highly.
Vikrant attributes the hotel's phenomenal success and glowing global reputation to the continued investment in staff, each of whom is trained through the Andras Training Academy.
"We have concentrated a lot of effort and investment into attracting, training and retaining the best people for the right jobs. All that hard work has paid off as our guests consistently praise and appreciate our staff. We were absolutely delighted to be awarded this most prestigious accolade. It's the 100 per cent commitment, 100 per cent of the time from our excellent team that makes achieving this standard even possible," Vikrant said.
Andras Hotels was founded in Belfast in 1981 and since then has helped to shape and drive the tourism and hospitality landscape of Belfast. It currently operates six internationally-branded hotels with 1,000 beds in Belfast; Holiday Inn®, Belfast City Centre, Holiday Inn® Express, two Ibis Hotels, the Crowne Plaza, Hampton by Hilton Hotel in the city's Hope Street and Cordia Serviced Apartments.